How To Use Artificial Grass For Narrow Side Yards In El Cajon?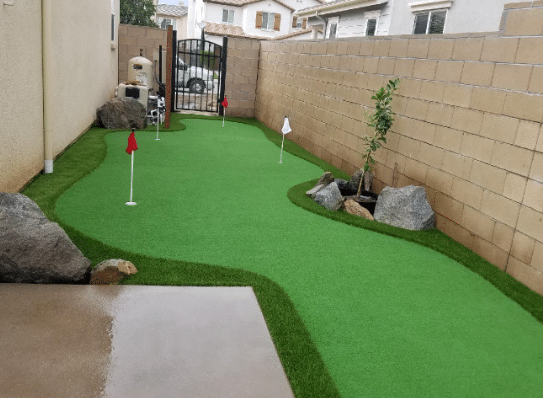 Artificial grass is becoming increasingly popular as an alternative to traditional lawns, and with good reason. It's low-maintenance, eco-friendly, and looks great year-round. But what if you have a narrow side yard? Can artificial grass still be used effectively in these tight spaces? Absolutely! Here are 7 tips for using artificial grass in your narrow side yard:
Measure the area carefully and determine how much artificial grass you'll need. As with any landscaping project, measure twice before cutting once. Make sure you measure the area accurately and leave plenty of room for a buffer zone surrounding the turf so that it can be properly secured down with nails or glue.
Quality matters when selecting artificial grass. Choose a turf with realistic-looking blades, one that holds its shape and has a thick enough backing to hold it all together. Low quality grass won't last as long and won't look as natural in comparison to higher quality options.
You don't have to just stick to the traditional rectangle shape when laying down your artificial turf. If you have a curved or sloped side yard, get creative with the shape of your turf installation and use this as an opportunity for visual interest in your landscape design.
Adding edging around the perimeter of the artificial grass will help keep it from shifting or slipping over time. The edging can be made from wood, metal, or plastic and should be strongly anchored into the ground.
Rubber infill is a great way to add cushioning to artificial grass for extra comfort when walking on it barefoot. This will also help keep the turf in place and prevent it from shifting over time.
Installing artificial grass is much easier if you take the time to dig out the area first, removing any dirt or existing vegetation that may interfere with your installation of the turf.
Narrow side yards don't necessarily have to just be filled with grass – use this opportunity to get creative by adding other types of landscaping features. Try installing a small rock garden, potted plants, or even hanging planters to add visual interest and help bring the space to life.
FAQ's
What Is The Best Thing To Put Under Artificial Grass?
The best thing to put under artificial grass is a high-quality base layer of crushed stone. This will provide a stable foundation for the turf and help ensure that it stays in place over time.
Do I Need To Water Artificial Grass?
No, artificial grass does not need to be watered like traditional lawns do. In fact, its low-maintenance nature is one of the reasons why many people choose to install it in their yards. However, you may want to hose off the turf occasionally if there's an accumulation of dirt or leaves on the surface.
What Is The Best Way To Cut Artificial Grass?
For small areas of turf, use a sharp pair of scissors or shears to make cuts. For larger sections or areas that need to be cut in a straight line, use a utility knife or carpet cutter. Make sure the blade is sharp and be sure to wear protective gloves when making any cuts.
Conclusion
It is possible to have a beautiful, low-maintenance side yard even if it's on the narrow side. By following these 7 tips for using artificial grass in tight spaces, you can create an outdoor area that is both visually appealing and easy to maintain. For more information, contact Artificial Turf El Cajon at (619) 503-3531.